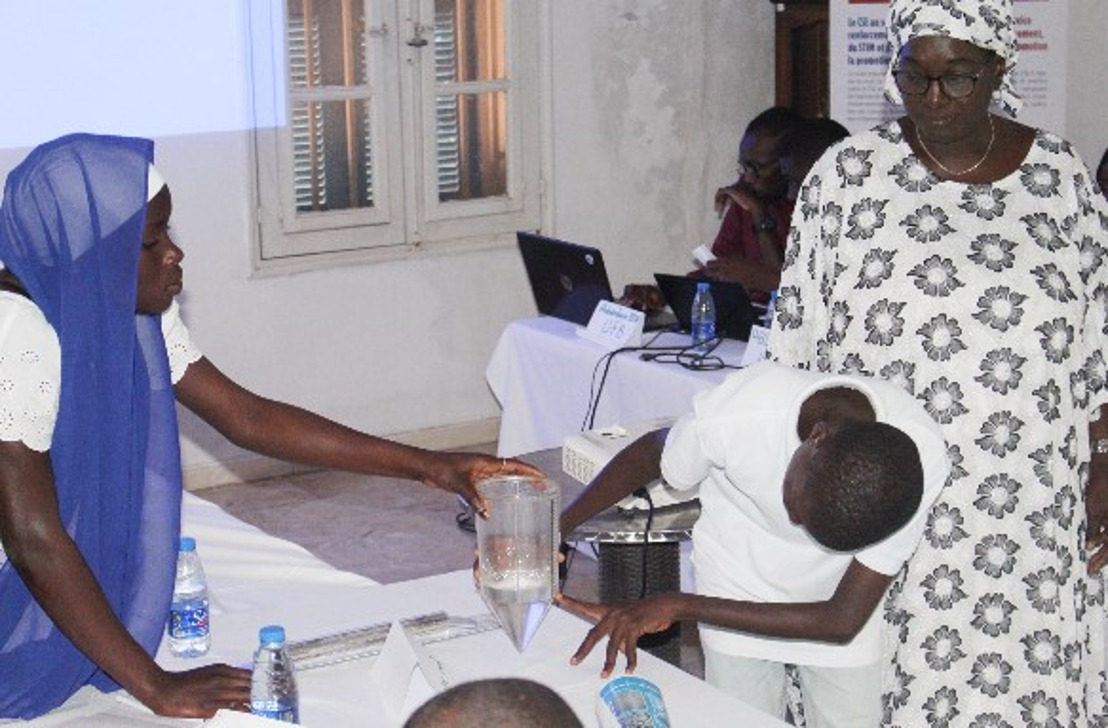 SERVIR Clubs: Transforming STEM Education and Gender Equity in Senegal
Collaborative Efforts Bridging the Gender Gap in Science, Technology, Engineering, and Mathematics in Senegal, West Africa
In an exciting new partnership, USAID and NASA, in partnership with ICRISAT, have joined forces with the Senegal-based Centre de Suivi Écologique CSE (Center for Ecological Monitoring) to ignite a passion in Science, Technology, Engineering and Mathematics (STEM) among youth.
With a specific focus on girls, the partnership framed under the ICRISAT-led SERVIR West Africa Program aims to bridge the gender gap in youth enrolment in STEM programs through student exposure to world-class environmental monitoring tools such as Geographic Information Systems, Remote Sensing and other digital technologies.
In the initial phase of the Program, the first SERVIR club was started at Gaston Berger University in Saint-Louis, Senegal, attracting 580 students.
More than 350 young women received training in partnership with the Directorate of General Secondary Education (DEMSG) and the Global Learning and Observation to Benefit the Environment (GLOBE) program.
Dr. Mariéme Diallo, Gender Focal Point for the SERVIR West Africa (SERVIR-WA) program at CSE, highlighted that these women were provided training in the implementation of protocols or procedures to address three key areas: agriculture and food security, weather and climate, and water resources and natural disasters.
"Through these tools we aim to encourage students to explore careers in the geo-spatial field" said Dr. Diallo.
Speaking on the partnership, Director General of ICRISAT, Dr Jacqueline Hughes said the collaboration was indicative of ICRISAT's determination to break down gender barriers and support governmental initiatives that foster inclusivity.
"I commend all parties involved in this initiative as is marks another significant stride toward paving the way for women to pursue STEM careers," said Dr Hughes.
Capacity-building in STEM (training on hydrology protocol review and training on atmosphere protocol review)
The SERVIR clubs have led to inspirational success stories, including that of Ms. Coumba Bâ, a student at Alboury Ndiaye High School.
Coumba states, "we established our club at the high school in 2021. We installed weather stations, and SERVIR-WA provided us with equipment.
"Our activities include cloud cover assessment, tide temperature measurement, and a mini-garden for growing vegetables.
This club helps us gain more knowledge, especially in our scientific subjects and our activities aren't limited to science students; students in the arts also participate.
Through our activities, we raise awareness among our peers in 3rd and 4th grades to encourage them to choose scientific paths" said Coumba.
Members of the executive committee of the national SERVIR-WA Club and Ms. Coumba Bâ presenting the Alboury Ndiaye High School activity report.
A national coordination unit has since been established to further promote STEM education in Senegal to be headed by Dr. Abou Issa Pouye from Gaston Berger University as President and Ms. Coumba Bâ as Vice-President further emphasising the role of women in decision making.
---
About SERVIR West Africa:
SERVIR-West Africa 2 (SERVIR-WA 2) is a joint initiative of NASA and USAID. It partners with leading organizations in various world regions to support them in providing decision-makers with products and services to strengthen resilience. SERVIR WA 2 is led by ICRISAT as part of a consortium with several West African institutions, international universities, and organizations.
The consortium is comprised of the African Regional Institute for Geospatial Information Science and Technology (AFRIGIST, Ile-Ife, Nigeria), the Agrometeorology, Hydrology, Meteorology Regional Center (AGRHYMET, Niamey, Niger), the Center for Remote Sensing and Geographic Information Services (CERSGIS, Accra, Ghana), the Centre de Suivi Écologique (CSE, Dakar, Senegal), the Institut Supérieur d'Études Spatiales et des Telecommunications (Ouagadougou, Burkina Faso), and the African Institute of Mathematical Sciences (AIMS, Mbour, Senegal and Accra, Ghana) as well as in partnership with the Center for International Earth Science Information Network (CIESIN) and the International Research Institute for Climate and Society, both at Columbia University, and with the University of Florida.
Header image: Training session in STEM. Photos. Thioro Codou Niang, CSE.

Agathe Diama Senior Communications Specialist for West and Central Africa

Tahira Carter Head of Communications