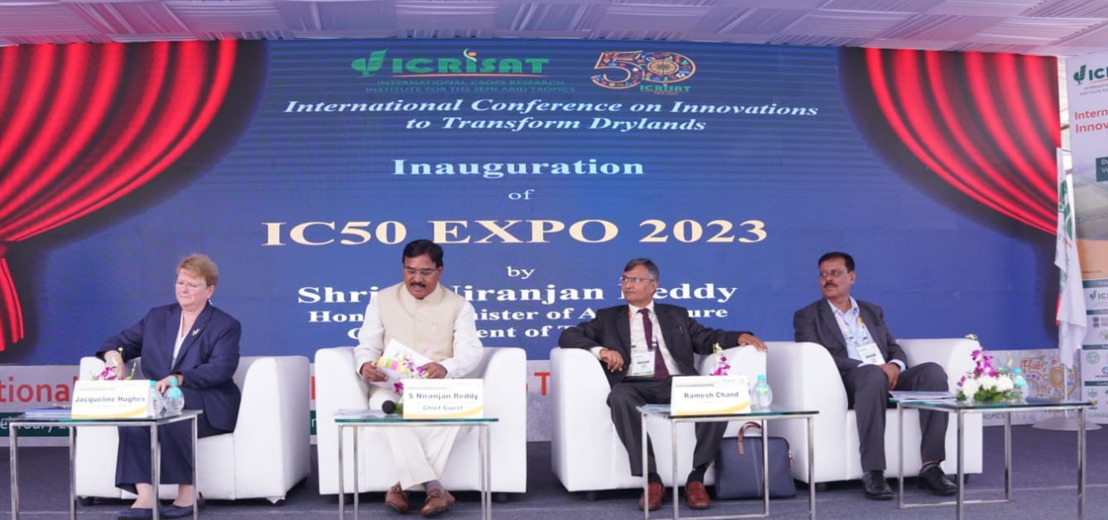 Revolutionizing Drylands: ICRISAT Launches Innovations Conference
Media Release
Hyderabad, India - The International Crops Research Institute for the Semi-Arid Tropics (ICRISAT) has launched the 'Innovations to Transform Drylands Conference' – an international gathering of the world's foremost dryland agrifood system experts to share new innovations to improve the lives of the poorest of the poor. ​
The conference, scheduled from February 21 to 23, 2023 at ICRISAT's headquarters in India, will promote the latest advancements in agriculture, technology, and policy that can be scaled and utilized by policymakers to transform drylands into sustainable and productive ecosystems.
With almost 40% of the world's land area classified as drylands, which are home to approximately 2 billion people, these regions face deep challenges from climate change, drought, and other environmental stressors. ​
The inaugural session of the conference was graced by Mr S Niranjan Reddy, Hon'ble Agriculture Minister of the Government of Telangana, India, and Prof Ramesh Chand, Member of NITI Aayog, Government of India.
During the session, they congratulated ICRISAT on its 50-year journey of enhancing food and nutrition security in the drylands, and officially inaugurated the IC50 MSME Expo 2023.
Director General of ICRISAT, Dr. Jacqueline Hughes said the conference illustrated one way in which the Institute was increasingly facilitating deeper collaboration and multi-stakeholder approaches to tackle the complex issues facing the drylands.
"Expanding collaboration, especially South-South is essential for driving innovation to improve the sustainability and resilience of the global drylands which all face similar environmental, social, and economic challenges.
"We look forward to sharing knowledge and experience that can provide solutions that are context-specific and effective to support the 2030 agenda for the Sustainable Development Goals," said Dr Hughes.
Deputy Director General – Research of ICRISAT, Dr Arvind Kumar said that the conference would generate new knowledge to help agri-institutes deliver on their mandate to improve the status of food security and nutrition for the poorest of the poor.
"These include new approaches in land and water management practices, the development and adoption of drought-tolerant crop varieties, the integration of traditional and modern knowledge, and the promotion of value-added products that can generate new economic opportunities in the drylands.
"I thank our sponsors, donors, and partners for their participation and look forward to the fast adoption and adaptation of these innovations for the drylands of Asia, Africa and beyond for more sustainable and resilient futures," said Dr Kumar.
The Innovations to Transform Drylands Conference coincides with the International Year of Millets 2023 and marks the conclusion of the 50th Anniversary of the International Crops Research Institute for the Semi-Arid Tropics. ​
Official Sponsors ​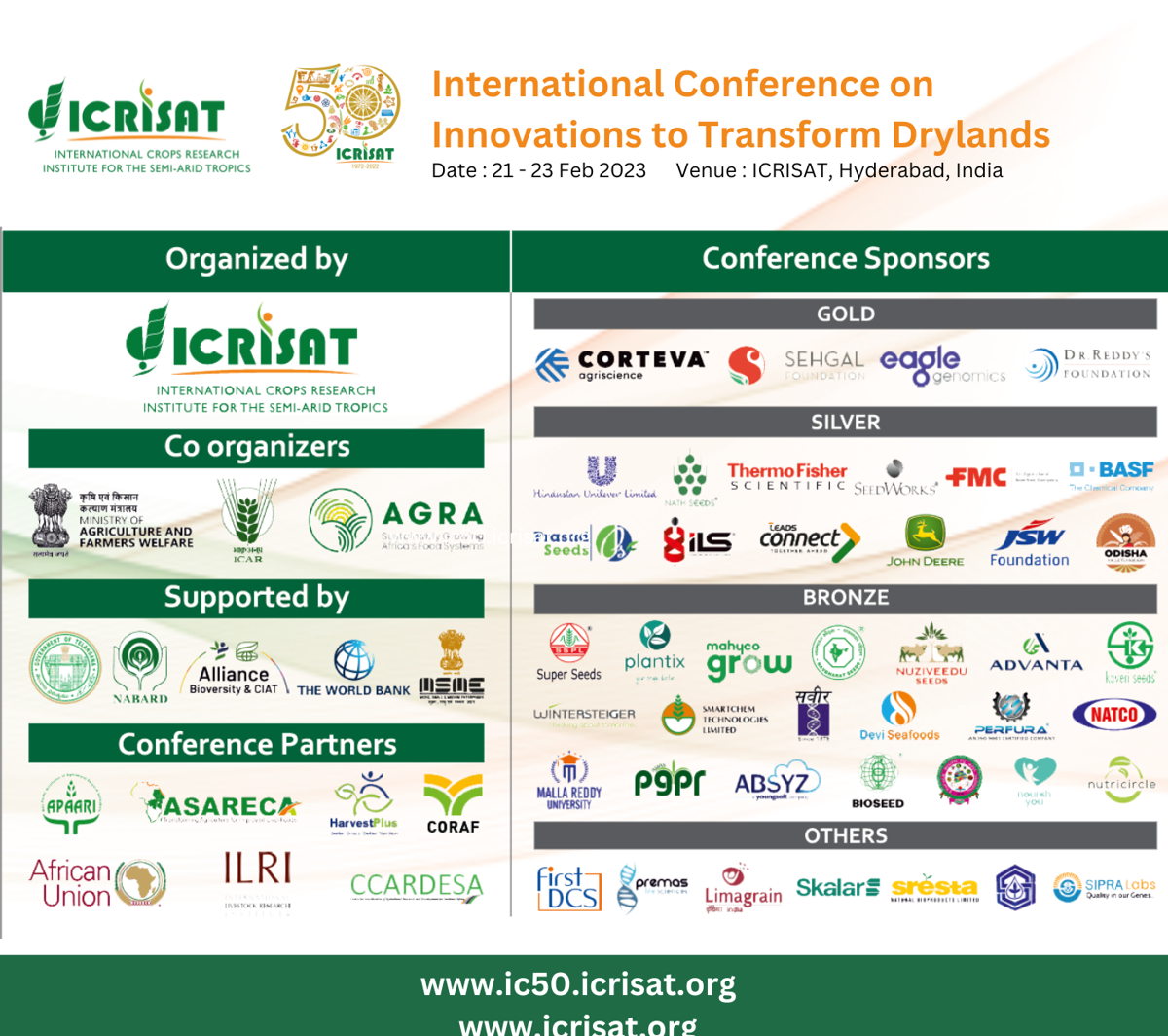 Banner image (from left to right): Dr Jacqueline Hughes, Director General, ICRISAT; Mr S Niranjan Reddy, Hon'ble Agriculture Minister of the Government of Telangana, India; Prof Ramesh Chand, Member, Niti Ayog, Government of India; and Dr Arvind Kumar, Deputy Director General - Research, ICRISAT