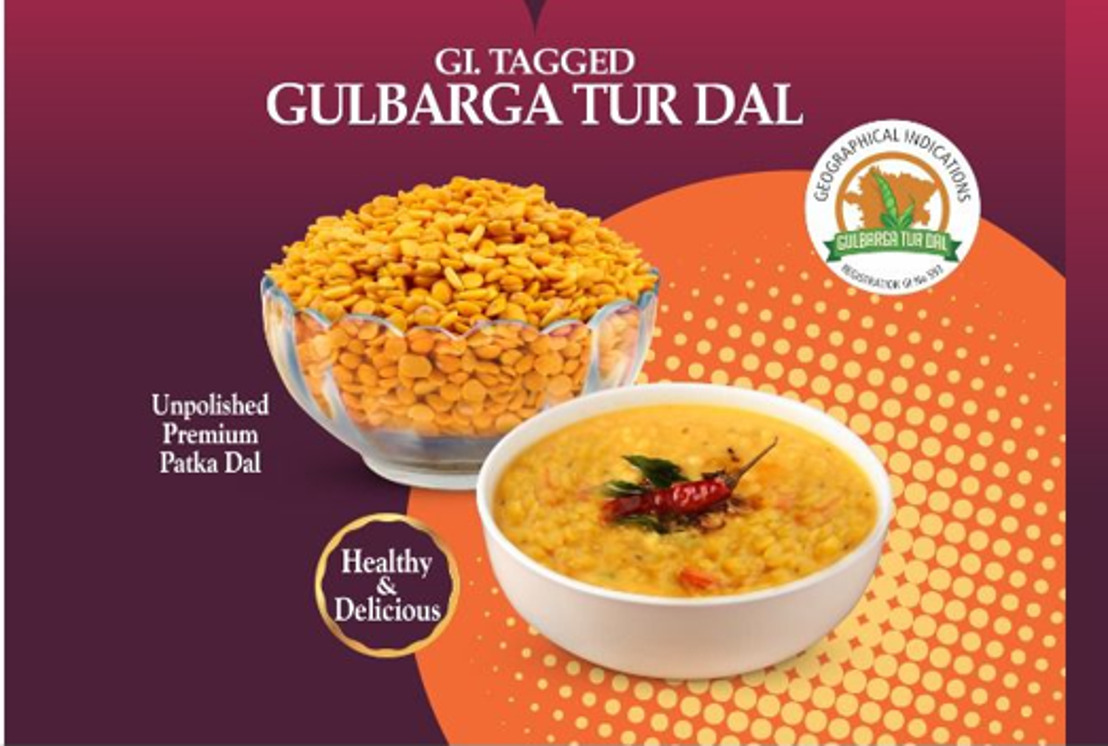 Raising awareness on GI-tag to weed out counterfeit Gulbarga Tur Dal
Skills transfer
With counterfeit products of geographical indication (GI) tagged 'Gulbarga Tur Dal' (pigeonpea) being sold at a 30% higher cost, farmers and millers were mentored to leverage the GI tag to maximize its commercial value and prevent counterfeits from eating into their revenue.
At the training program hosted on October 14, 2022, by the University of Agricultural Sciences (UAS), Raichur and ICRISAT, 16 beneficiaries were awarded an "authorized user certificate" of GI-tagged Gulbarga Tur Dal as granted by the Geographical Indications Registry, Government of India.
The program enlightened the authorized users on ways to discover and flag counterfeit tur dal being sold as GI-tagged Gulbarga Tur Dal in the market. The importance of using the GI logo as an identification mark on the packaging for originality and quality assurance was explained to the authorized users.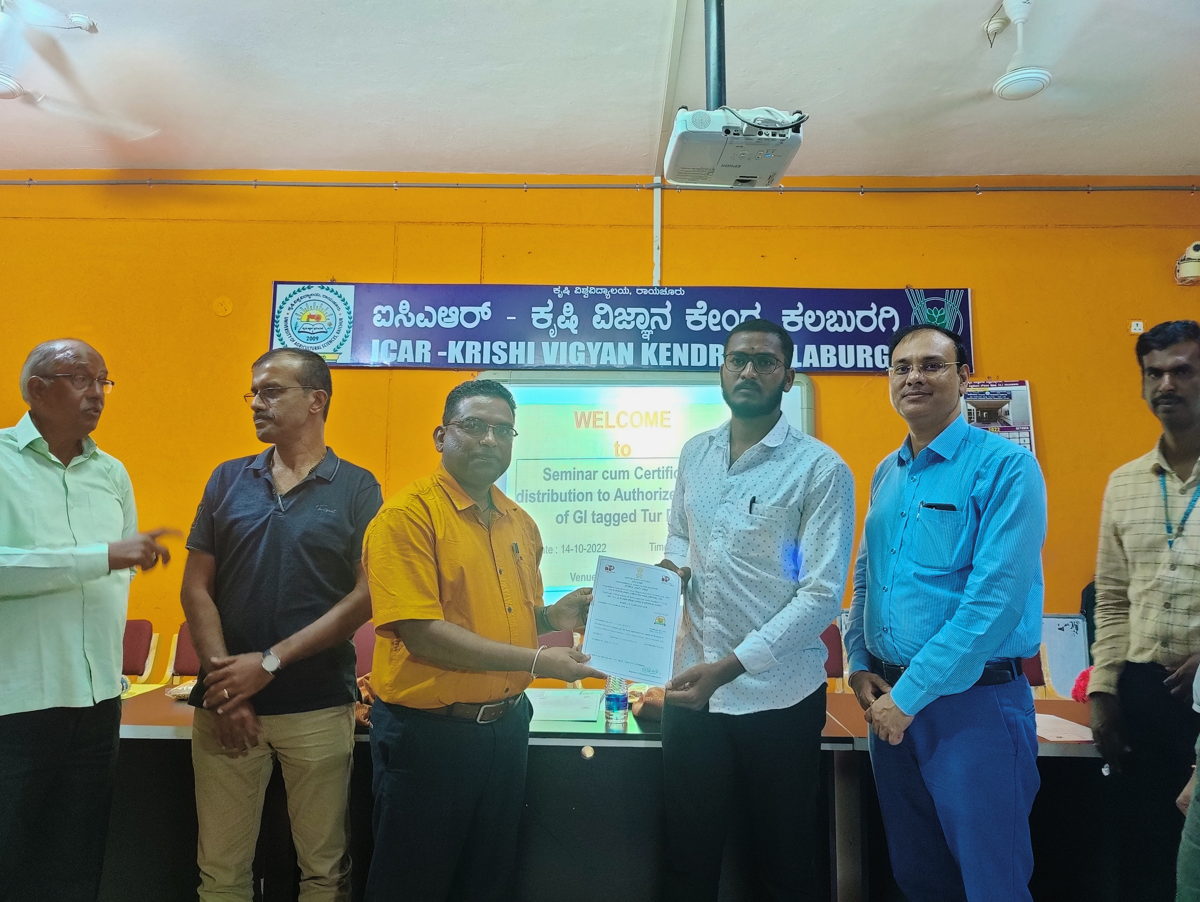 With the infringers emerging as a cause of concern amongst the beneficiaries, the program offered a platform for authorized users to share their experiences and challenges in reaping the benefits of the GI tag.
"The GI protection offers benefits to both consumers and producers, leading to the overall economic prosperity of rural communities. An exclusive logo distinguishes the original from the counterfeit products, thus guaranteeing quality to the consumer," said Dr Surya Mani Tripathi, Head, Legal Services, ICRISAT, who was instrumental in facilitating the GI tag for the Gulbarga Tur Dal.
Gulbarga Tur Dal, renowned for its superior quality the world over, received the GI tag from the Government of India in 2019. The soil in Gulbarga is rich in calcium and potassium, giving the tur dal a unique taste, aroma, nutritional value, and cooking properties. This is due to the agro-climatic conditions of the Gulbarga region. The better milling quality of the pulse is due to the spherical nature of the grains, making it a premier-quality pulse.
The application seeking the GI tag was filed by UAS Raichur, and the Karnataka Togari Abhivrudhi Mandali, with the help of ICRISAT's Intellectual Property Facilitation Centre (IPFC) at the GI Registry, in September 2017. Dr Muniswamy, senior scientist at UAS Raichur outlined the various stages of the GI application and efforts made by every stakeholder in providing the requisite information for the grant of a GI ​ tag. ​
Anthony Maria Emannuel, Managing Director at Pulses Board and Dr Jayaprakash Nidagundi, professor and IPR cell head at UAS Raichur, emphasized catering to the urban market consumers tend to purchase genuine GI-tagged goods. ​ ​
The program was attended by farmers and millers, members from the Pulse Board, UAS Raichur and the IPFC team at Agribusiness and Innovation Platform (AIP)-ICRISAT. Throughout the discussion, it was emphasized that post GI registration, the focus should be on quality control and implementation of business frameworks to maximize the commercial value of GI-tagged Gulbarga Tur Dal.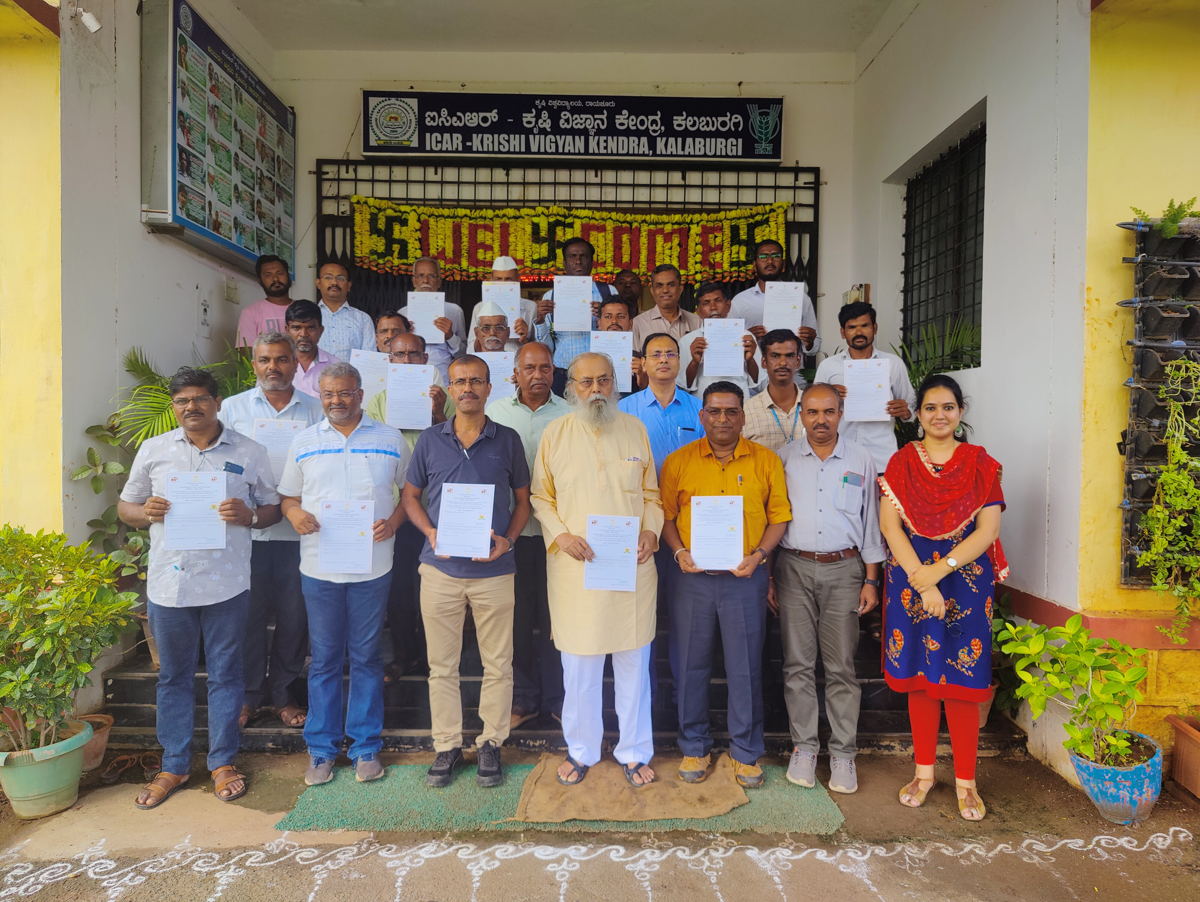 Banner image: Packaging label for GI tagged Gulbarga Tur Dal as conceptualized by Karnataka State Pulses Abhivrudhi Mandali.