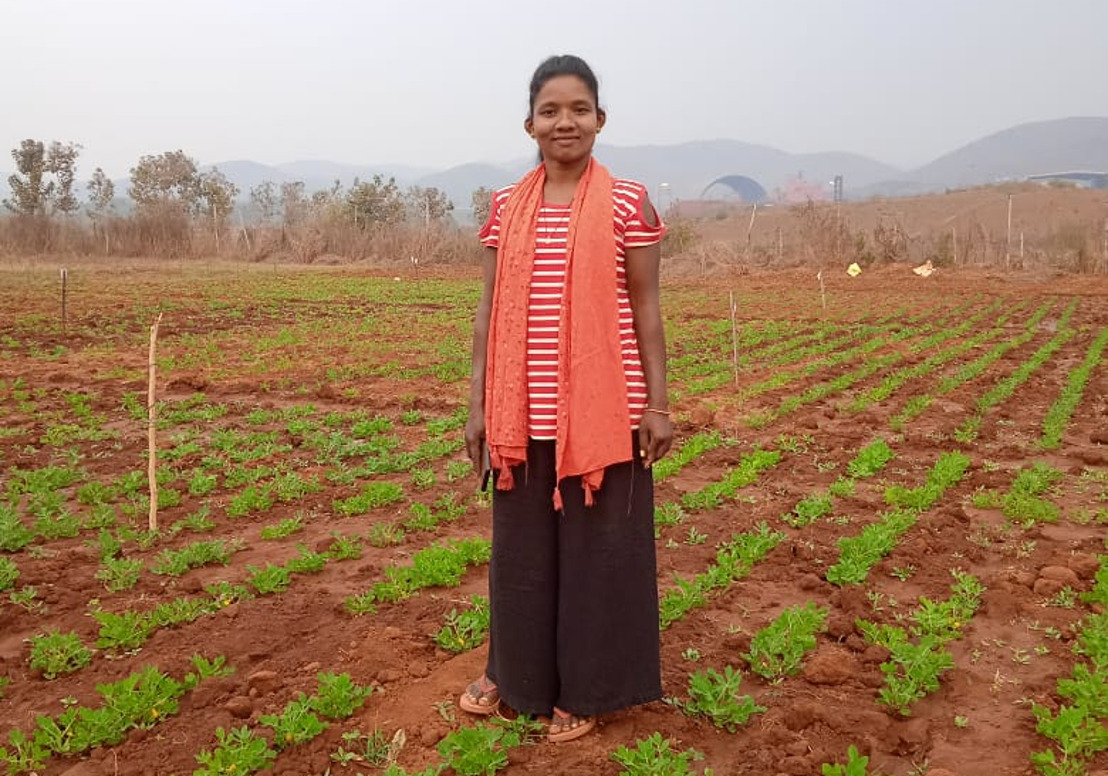 ICRISAT Empowers Innovative Farmer to Establish Groundnut Crop Cafeteria in Odisha, India
Feature
Ms Rajeswari Majhi, 29, has allotted one hectare of her land for planting a seed varietal cafeteria after receiving training at ICRISAT. She and a co-trainee plan to identify the best varieties for the area and increase production on a larger patch in the next season.
Rajeswari a groundnut farmer from the Raygada district of Odisha, is the sole earner for her family. ​ Determined to overcome the challenges posed by traditional methods of production and access to seeds, Rajeshwari has been seeking ways to make farming climate-resilient and profitable.
Despite discontinuing school, she is quick to adopt innovations that drive the entrepreneur in her. She joined a local self-help group and is alert to avenues that can enhance her income.
Through the self-help group, she was introduced to scientists from the International Crops Research Institute for the Semi-Arid Tropics (ICRISAT,) who are closely working with Odisha Livelihood Mission (OLM) towards improving seed security in the community through a sustainable seed business model. ​
At an ICRISAT training session, Rajeswari gained knowledge of good seeds, treating seeds for disease control, land preparation, and other techniques, and executed the learnings effectively in her own field. ​
"By applying integrated crop management techniques, Rajeshwari Majhi's groundnut harvest is anticipated to double this season, resulting in a yield of seven to eight quintals per hectare and an additional income of ₹ 25,000 per hectare.
Rajeswari is now focused on groundnut seed production and plans to allocate half of her land, which could generate a 20% higher price than the grains she sells in the market," said Dr Manzoor Dar, Principal Scientist - Seed Systems & Scaling, ICRISAT.
After extensive training on quality seed production and post-harvest management technology of groundnut at ICRISAT headquarters in November 2022, she has also established a 'varietal cafeteria' for the comparison of new varieties of groundnut in Raygada District. Her crop cafeteria has ten varieties of groundnut, including Girnar 4 and Girnar5.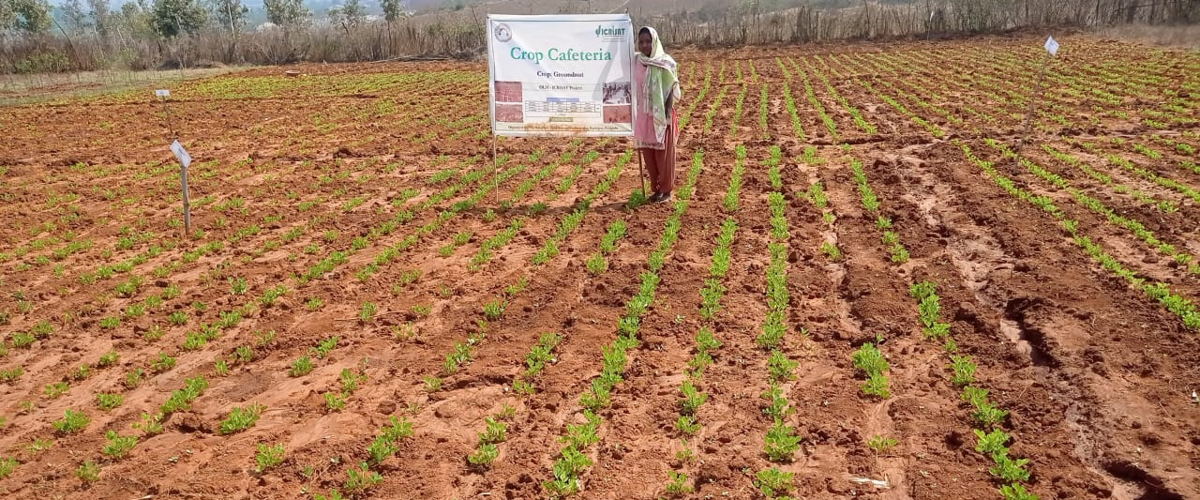 "We set up a varietal cafeteria of pulses and groundnut to showcase to women groups from other villages. Our goal is to have the confidence to sell any seed to other women's groups if the potential of new varieties is effectively demonstrated.
We plan to multiply these seeds in the first season and then scale up the product for business purposes," said Rajeswari Majhi.
She firmly believes that she can make her seed business profitable by maintaining the quality of seeds that suit local conditions and selling them in her self-help group networks. Rajeshwari is also planning to establish a well-equipped seed processing unit in her village. ​ ​
Director General of ICRISAT, Dr Jacqueline Hughes commended Rajeswari and many women such as her on International Women's Day for their vision and tenacity.
"As we celebrated International Women's Day, it is important to recognize the crucial role that women have in agriculture.
"Women are a significant portion of the agricultural workforce, yet they often face significant barriers to accessing the resources and support they need to thrive.
"By empowering women in agriculture and other endeavors through education and resources, we can not only help them improve their lives and those of their families but also increase food security for their local communities" said Dr Hughes.
Deputy Director General, Research at ICRISAT, Dr Arvind Kumar said that International Women's Day was a chance to honour the often unrecognized work of women in growing and harvesting food that sustains many communities.
"Many women still face challenges and inequities in accessing resources and support. ​ By breaking down these barriers and empowering women in agriculture, we can build a more resilient and prosperous world.
"Let's stand together and continue to make sure that no woman is left behind in the journey towards a brighter future in dryland agriculture" said Dr Kumar.
Dr Sean Mayes, Global Research Director - Accelerated Crop Improvement program at ICRISAT, praised the efforts and dedication of women such as Rajeswari who are working towards expanding seed production in their communities.
"Rajeswari and ICRISAT, both share a common goal of making dryland agriculture more resilient and profitable, which is crucial for the well-being of people living in these regions," concluded Dr Mayes.