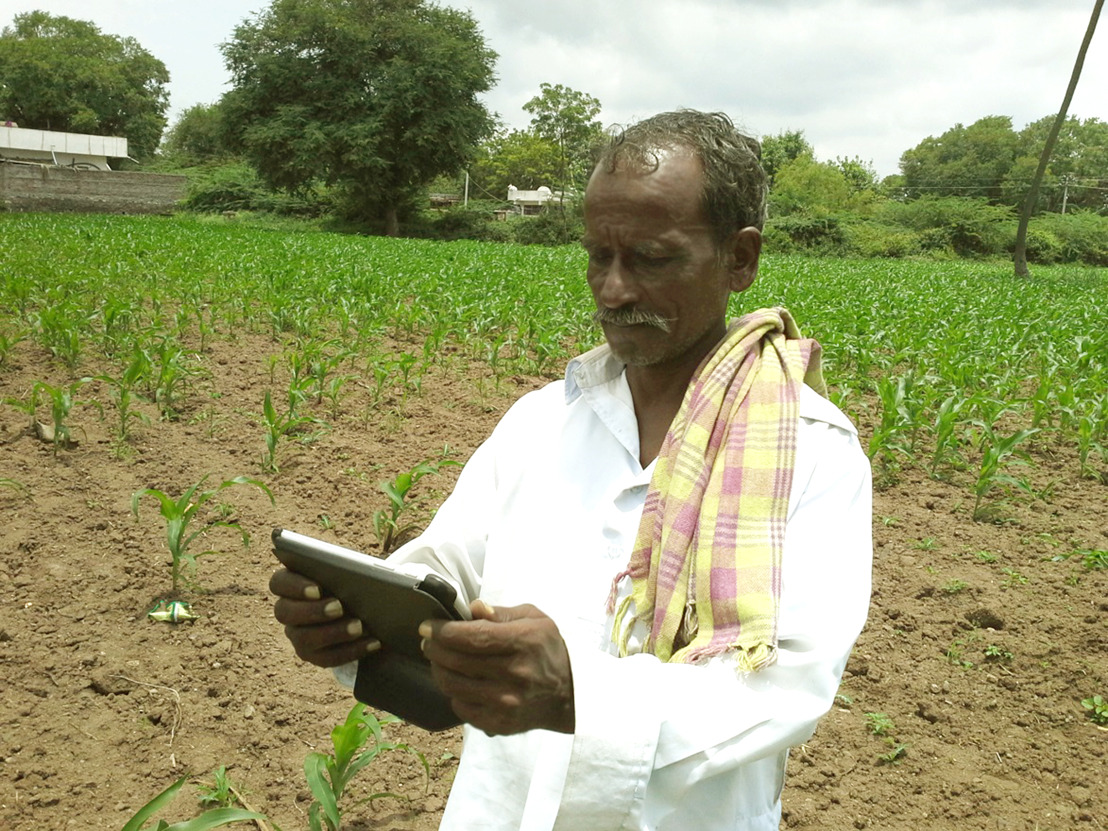 Meghdoot weather-based mobile application
Feature: ICRISAT championing digital agriculture
The Intelligent Agricultural Systems Advisory Tool (iSAT) piloted by ICRISAT and partners inspired the development of the Meghdoot app which provides crop-specific advisories by aggregating information from agro-met field units across India. Read below the article published in the Daily Excelsior.com
To take forward the Digital India initiative and bring technology to farmers, the Ministries of Earth Sciences and Agriculture have launched a mobile application "Meghdoot" which will provide location crop and livestock-specific weather-based agriculture advice to farmers.
Meghdoot is a joint initiative of the India Meteorological Department (IMD), the Indian Institute of Tropical Meteorology (IITM), and the Indian Council of Agricultural Research (ICAR). It aims to provide important information to farmers through a simple and easy-to-use mobile application. The mobile application has been developed by the International Crops Research Institute for the Semi-Arid Tropics (ICRISAT), Hyderabad by Digital Agriculture Research Theme in association with IITM, Pune and IMD, Delhi.
This app seamlessly aggregates district and crop-wise advisories issued by District Agro-meteorological Units (DAMUs) every Tuesday and Friday along with forecast and historical weather information for farmers.
Initially, this service has been made available in 200 districts in different parts of the country. It will be extended to the rest of the country in a phased manner over the next one year.
The app is available on Google Play Store and App Store. Users have to register their name and location so that they can get region-specific information.
The District Agro-meteorological Units (DAMUs) issue relevant district and crop-wise advisories every Tuesday and Friday. These advisories include wind speed, wind direction, relative humidity and rainfall for the next five days. In addition to weather information, the app also provides crop and livestock advisories for selected locations. The advisory includes a brief weather summary and guidance on each and every farm operation. The app also provides advice to farmers to take weather-sensitive decisions like the sowing of crops, pesticide and fertilizer application, irrigation scheduling and vaccination of animals.
Apart from the crop advisory, the app also provides current weather information, past and forecasted weather information for five days pertaining to rainfall, temperature, humidity, wind speed and direction, which play critical roles in agricultural operations.
Meghdoot app allows farmers and interested users to access these advisories in a friendly manner. An interested user has to download the 'Meghdoot' application and sign in using their mobile number and preferred language.
The app advisory comes in location-specific languages including Marathi, Bengali, Gujarati, Odia and Hindi. Wherever available, advisories are also issued in the local language. The app also allows the user to add or remove locations.
There is also a quick view section that enables you to view the weather and crop advisories without adding them to the dashboard. Another feature is 'Previous Weather' using which the weather patterns in the selected area for the last seven days can be tracked. To make the app easy to access and use, it provides information in the form of images, maps and illustrations to help have a clear picture. The app has been integrated with WhatsApp and Facebook to help farmers share information among themselves. It will also be integrated with YouTube in the future for the benefit of the farming community.
Authors: Dr Lobzang Stanzen, Dr Ashu Sharma
The Authors are Scientists (Agrometeorology) at Krishi Vigyan Kendra (KVK) Reasi and KVK Kathua of Sher-e-Kashmir University of Agriculture Sciences and Technology (SKUAST) Jammu.
For the original article click here