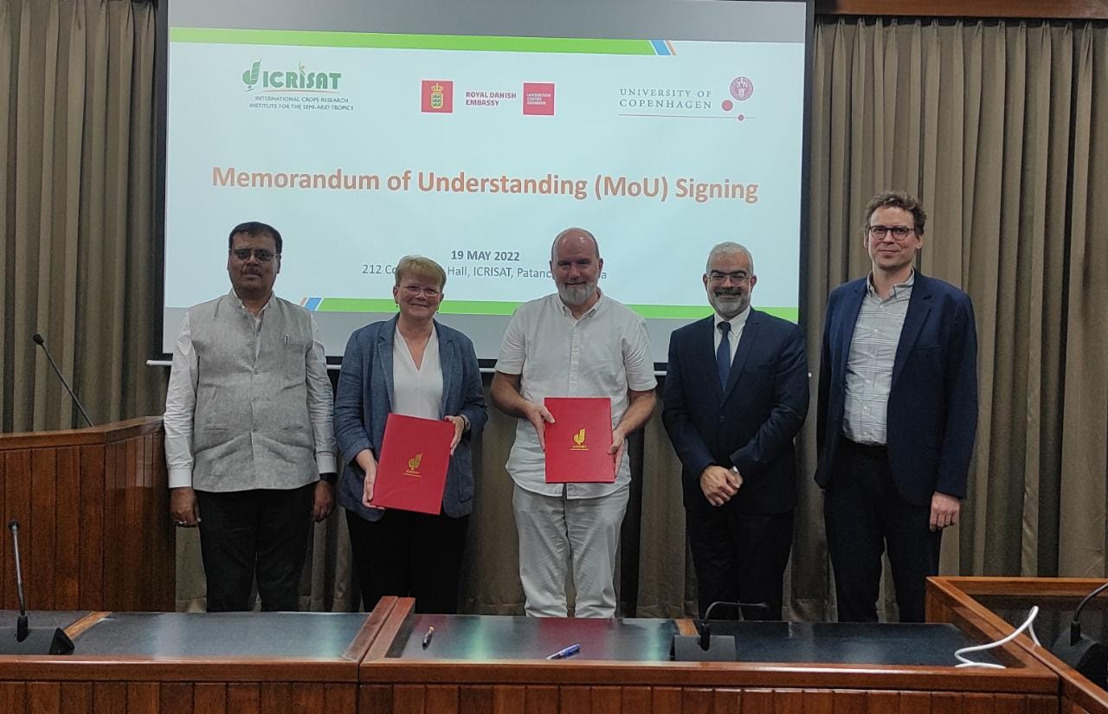 ICRISAT signs an MoU with University of Copenhagen to build sustainable agri-food systems and technologies
Media Release
HYDERABAD, INDIA: The International Crops Research Institute for the Semi-Arid Tropics (ICRISAT) signed a memorandum of understanding (MoU) with the University of Copenhagen to build sustainable agri-food systems as part of the India-Denmark Green Strategic Partnership.
The MoU was signed at the outset of a five-day workshop on 'Establishing a Danish-Indian partnership on Smart Plant Protection (SPP)' and a round table discussion on sustainable agri-food systems and technologies held between May 16-20, 2022.
The roundtable was attended by 27 key delegates from the University of Copenhagen, Borlaug Institute for South Asia, Danish Embassy, New Delhi, Echo Network, 21st Bio, Novo Nordisk Foundation, Innovation Foundation Denmark, and Good Food Institute – India among many other leading scientists from the ICRISAT and other local institutes.
The roundtable discussions on sustainable agri-food systems and technologies were steered by Dr Jacqueline d'Arros Hughes, Director General, ICRISAT who emphasised that the partnership with the Danish government is with a larger goal of addressing the need for high yields, sustainability, healthy diets, climate change mitigation, equity, diversity and inclusion.
The growing multi-faceted crisis in the global food system emphasizes the need for investments in research and development (R&D). Advances in R&D must be systematically disseminated, translated and redeveloped and R&D must increasingly be focused on problems and conditions from across the globe.
Prof Prabhu Pingali, ICRISAT Governing Board Chair and professor at Tata-Cornell Institute for Agriculture and Nutrition spoke on emerging food system challenges and technology interventions.
"The per capita consumption of staple calories has been declining quite steadily in India. The other big challenge in the food systems in India is the rising levels of undernutrition. We're still having high levels of child stunting. Simultaneously, the country has seen a dramatic rise in obesity levels. In my opinion, the problem of undernourishment and over nourishment has pretty much the same solution. That is, improved access, food diversity and food quality i.e. more nutritious food," said Prof Pingali.

Terming pests as a global issue, Pramod Aggarwal of Borlaug Institute for South Asia said –
"Of late, we have been seeing lots of transboundary pests. We saw fall Armyworm coming from the African side, wheat blasts and dessert locusts and it has been disturbing our food systems and ultimately food security."
Contributing to the discussions on navigating to a nutritious and climate-smart food system, Nanna Roos, associate professor at the University of Copenhagen said –
"We are dealing with both undernutrition and overnutrition. So, the starting point here is more of a double burden of an unbalanced diet. The transition of the food systems should be healthy and sustainable at the same time."
With investments by the Danish government in sustainable agriculture R&D and private Danish foundations rapidly increasing to create international research groups and consortia in specialized agricultural fields, Jakob Williams Oerberg, counsellor of innovation, research and higher education at the Danish Embassy in New Delhi said that the collaboration between ICRISAT and University of Copenhagen can accelerate research into building more resilient and sustainable agri-food systems and technologies.
The establishment of a Danish-Indian partnership on SPP is based on the current progress of applying digital technologies and services for Indian farmers. The workshop explored potential areas of collaboration where Danish expertise could provide transformational partnerships with Indian R&D partners.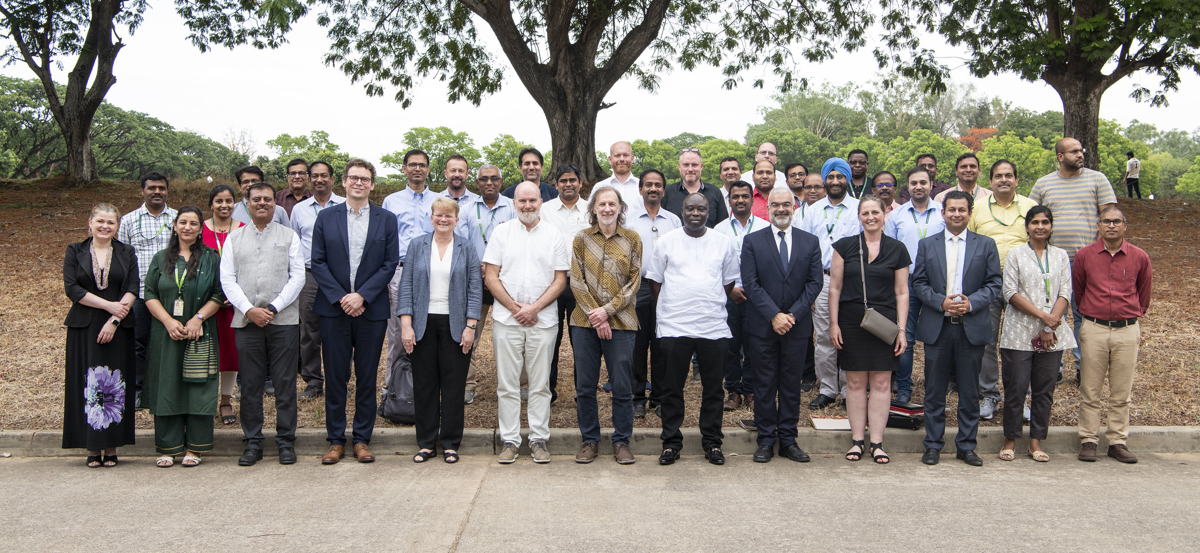 This workshop had multi-disciplinary teams of scientists from ICRISAT and the University of Copenhagen, National Institute of Plant Health Management, Indian Council of Agricultural Research Institutes (IIRR, IARI, IIHR, IISR), state agricultural universities (UAS Bangalore, BAU Sabour, PAU Ludhiana), International Institute of Information Technology (IIIT), Naya Raipur and start-up from across the country. The workshop discussed synergies focusing on climate change, pests and disease management, digital tech, early warning systems and more.
As part of the deliberations, the delegates visited farmers in Lakshmipoor village in Telangana state, India to understand the ground level crop protection interventions. As many as 75 local farmers quizzed the researchers on how to deal with the pests and diseases destroying their crops. An inspiring discussion was held, showcasing the need for a Danish-Indian partnership on SPP.
The delegates also visited the IIIT, Hyderabad to discuss various agri-food systems and technologies. During the workshop, five start-ups presented their ideas on sustainable agri-food systems and technologies.
This Danish-Indian SPP partnership explored the use of smart technologies that can pave the way to optimize returns on inputs while preserving resources for farmers. The partnership also deliberated on how artificial intelligence can assist predictive models to improve weed, pest and disease management and ways to conduct real-time measurements of weeds, diseases and pests and application of pesticides using autonomous vehicles. This will allow farmers to control the amount of input they apply and hereby improve profitability, efficiency and sustainability while protecting the environment.
During the five-day event, brainstorming sessions were held that led to the building of a roadmap for future collaborations.